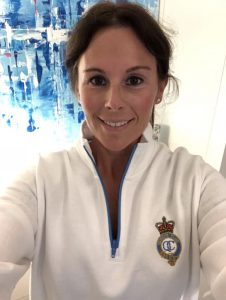 You in 4 words
Passionate, Energetic, Committed, Fun
 Your specialism
HIIT, Post Natal Restorative, Weight loss, Tennis conditioning
What makes you love exercise so much
Feeling liberated and challenging myself.  It makes me feel confident.
Whats your favourite exercise and why (make this client focused)
HIIT –  Yoga formula – I really enjoy the challenge of the high intensity exercise followed by yoga afterwards, I find the two types    of exercises go hand in hand together.
 Have you ever met anyone famous
My boyfriend – he has rowed the Indian and Atlantic oceans 
Whats your favourite holiday destination
The French ALPS – I have a huge passion for skiing ever since my childhood.  The mountains always make me feel alive and free.
 Where do you shop for exercise gear
Nike and Lululemon
 Whats your wardrobe essential
Snuggly cashmere PJ's
 Who do you follow on instagram
Dr Chater Jee, The Food Medic, Alexia Clark, Alice Liveing
 When you're not exercising what do you like to do most
Playing tennis, exploring new places, Travel and Cooking.
 What would your advice be to anyone who wants to feel good about themselves
Work on developing a positive can do attitude and take pride in your own strengths; most importantly be kind to yourself.
 Whats the best advice anyone ever gave you
Cut out all the negative energy around you, so that you can live your best life.