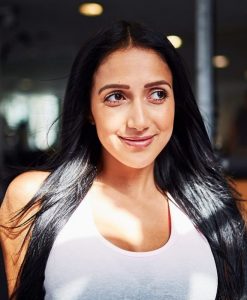 You in 4 words
Optimistic, compassionate, grounded, glittery
Your specialism
Pre & Post Natal, Strength Training & Corrective Exercise
What makes you love exercise so much
Fitness has been a part of my life for as long as I remember. My mother is an athletics coach and a NHS children's physio and my brothers a royal marine. For me exercise is freedom and a way to connect my body and mind and feel whole and energised.
 Whats your favourite exercise and why
My favourite exercise is a Deadlift, I love the postural changes and strength that can be gained from a deadlift for the whole posterior chain. I also enjoy that it's often harder to coach than a squat and love the sense of achievement a client gets when they've mastered the movement pattern and can start enjoying the benefits.
Have you ever met anyone famous
Liam Gallagher in Argentina while filming Total Wipeout
 Whats your favourite holiday destination
Anywhere in Latin America. I love the culture
Where do you shop for exercise gear
Lululemon
Whats your wardrobe essential
Wooly hat
Who do you follow on instagram
@FitnessBellsPT
When you're not exercising what do you like to do most
Hiking, travelling, learning new skills & singing in the shower
What would your advice be to anyone who wants to feel good about themselves
Write down 5-10 positive traits that you have that make you a good person.