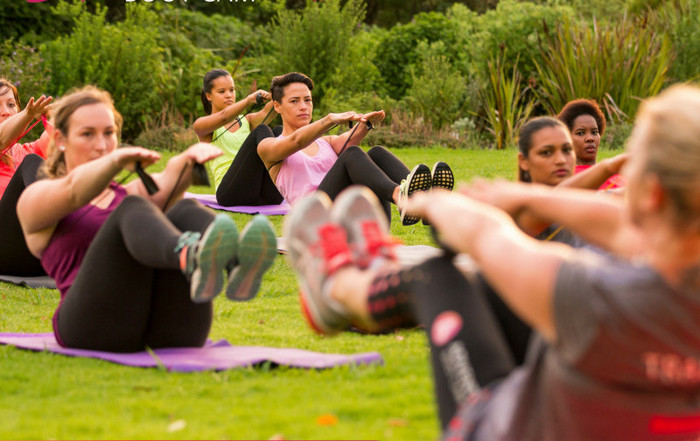 Ahead of the launch of FitnessBells Outdoor Bootcamps at the start of October (which we're super excited about!), we thought we'd tell you a little bit more about why we love training in groups. Let's share with you just a few of the benefits of going an outdoor Bootcamp near you!
Community
There are plenty of bootcamps, (we absolutely love Barrys bootcamp but know this isn't for everyone). Our message is fundamental to what we're about what's in it for you… New friends outside of the workplace! FitnessBells bootcamps is a community where you can meet like-minded people wherever you are in your life. We'll have a bootcamp that will support your fitness goals, fit in with your schedule, your lifestyle so you can make the change and feel amazing!
Motivation
Group training is a great way to stay motivated. Imagine; it's a rainy day and you're feeling a bit low on energy, but the group are expecting you there, are you still going to turn up? Yes! Having other people there gives you that accountability for your actions. And for those with a competitive streak it's a great opportunity for you to shine. Face it, coming top is always fun!
Support
Working in a group means you have the support of both the coach and others in the group to push you to work harder. We all have different strengths and weaknesses, and during group sessions you learn about each others so that as a team we can work together to support and make each other feel like anything is possible.
Confidence
Going to the gym can often feel a bit daunting if you're not really sure what you're meant to be doing. In your head it feels like everyone is watching (FYI- they're just as self- conscious as you are!). Being part of a group can really build confidence as there is 'strength in numbers'. Although you can't hide within a bootcamp (sorry!), you'll feel less pressured. It's a great way to learn some of the basics whilst improving your technique too.
Fun
Most importantly, it's FUN! To be outdoors and working out in the fresh air holds its own benefits, its good for the soul and spirit, connecting with the outdoors and nature gives you the opportunity to really switch of from everyday stresses. Moving outdoors has been shown to reduce anger and depression and improve mood (Barton and Pretty, 2010). Exposure to daylight produces essential vitamin D which may be partially responsible for this mood-enhancing effect (Kerr et al., 2015).
Go out there and join a bootcamp near you to reap the emotional and physical health benefits and most importantly have some fun!