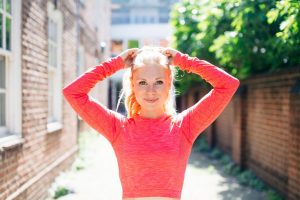 You in 4 words.
Determined, positive, loyal, fun
Your specialism.
HIIT & weight training. Helping women feel confident and strong. Promoting abundance not restriction.
What makes you love exercise so much?
I love seeing progress through hard work and determination. I love the way it makes me feel and that there are no limitations or boundaries to what can be achieved. There are also so many different types of exercises to suit how you're feeling and the facilities available.
Whats your favourite exercise and why?
Weight training and spin classes. I love getting stronger and challenging myself with weight training. Spin is my favourite way to get a good sweat on!
Have you ever met anyone famous?
Yes, Kelly Clarkson. Met her on a plane when I was 10 years old flying to California!
Whats your favourite holiday destination?
Great Barrier Reef, Australia
Where do you shop for exercise gear?
Gymshark, Sweaty Betty
What's your wardrobe essential?
A cosy jumper
Who do you follow on instagram?
NaturallyStefanie , Stef_fit, Zannavandijk
When you're not exercising what do you like to do most?
Cooking and eating! Love creating new recipes as well as exploring new vegan cafés with friends
What would your advice be to anyone who wants to feel good about themselves?
Never compare yourself or your journey to anyone elses. Do what makes you happy, trust the process and love yourself no matter what
Whats the best advice anyone ever gave you?
Love the life you live. Live the life you love.