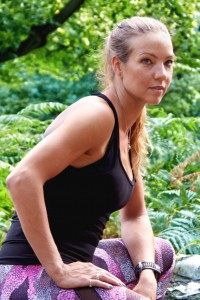 ANNABEL
You in 4 words.
Fun. Genuine. Happy. Adventurous.
Your specialism
Event Coaching ie triathlon races, tough mudder. Post natal restorative exercise. Pregnancy exercise. Stretching.
What makes you love exercise so much
The after effect gives me such a high on life and clears any fuzz in my head
How do you motivate your clients
Being firm but fair. I can be military and also have a gentle approach, it really depends on what training style motivates the client.
Whats your favourite workout routine and why
I like a holistic approach. A tough HIIT strength session. A swim in the lake. I also need yoga and meditation in my life to maintain the balance.
Have you ever met anyone famous
Yes, Jason Donovan I walked into his changing room when I worked in TV at the age of 26 to tell him he was my teenage crush.
Whats your favourite holiday
Anywhere by water be it sea, lakes or rivers completely energise me and I love swimming and have been known to get into the British sea in winter months too.
Where do you shop for exercise gear
All over. I'm always looking for new brands. Recently bought a Soul Cycle t-shirt in New York. Nike for trainers and leggings. Lululemon for sports bras. Varley for cool tops.
Whats your wardrobe essential
Sunglasses and handbag
Who do you follow on Instagram
@Alexia_clark @mat.pilates @mickiphit
When you're not exercising what do you like to do most
Watch Billions. Have a big lunch with my family.
What would your advice be to anyone who wants to feel good about themselves
Learn to love yourself no matter what and remove any negativity from your life
Whats the best advice anyone ever gave you
Today is a new day
Find out about Annabel Kukulski.