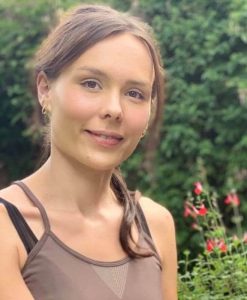 You in 4 words
Enthusiastic. Grounded. Dedicated & Trustworthy
Your specialism
Circuit based training such as HIIT & Tabata. Light resistance, strength and power training. I will always take a whole-body approach and aim to help correct any postural deviations through exercise so that no area is neglected, while working towards achieving the specific goal/s we've set for you.
What makes you love exercise so much
I love the aftereffects exercise has; mood boosting and stress busting. It turns me into my most productive happy self and I'm better equipped mentally. (I would be lying if I said I didn't also enjoy the aesthetic rewards!)
Whats your favourite exercise and why
I really enjoy star jumps because they are explosive: They combine power & strength and are good for cardio and working the core at the same time. They make you feel on top of the world!
Have you ever met anyone famous
I've met a few! I've hung out with JLS backstage before, back when they were all the rage.
Whats your favourite holiday destination
I'm a beach holiday type of girl – the Canary Islands are my go-to as the journey isn't too long and the forecast is usually perfect! I would love to visit somewhere tropical maybe Bali or The Maldives.
Where do you shop for exercise gear
Varley is up there as a favourite. I also like Cassall and All Fenix. I'm always on the lookout for new activewear brands to try out though!
Whats your wardrobe essential
Definitely a nice coat or jacket, I think I am slightly obsessed but they totally transform your look from basic to "put together" in a second.
Who do you follow on Instagram
Aside from friends and family, I follow quite a few fitness & health influencers, vegan chefs and foodies. I also follow nature, architecture, cute ducklings, nail art and fashion accounts. Fitness influencers I follow are @meggangrubb, @robingallantt and @taylorkayteee.
When you're not exercising what do you like to do most
As geeky as it sounds, I love to cross stitch – it's so therapeutic. I like reading, walking, cycling, bouldering, going to the driving range – I'm up for trying most activities really, anything fun. Weekend brunches and pub lunches with friends & family are also right up my street, I just have to suss out places for vegan food!
What would your advice be to anyone who wants to feel good about themselves
You are the only one living in your body, so you are the only one who has the right to say or choose how you should feel; don't look externally. Your body is also the only thing that carries you through life so it deserves love, care and attention. Start small with your own positive self-talk and combine with building upon your fitness and health, it's a great way to start off on a brighter path to feeling full on fab!
Whats the best advice anyone ever gave you
"Nothing changes until you change something."