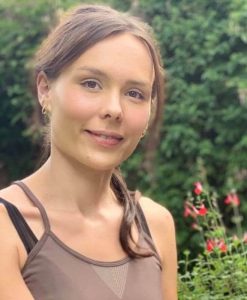 You in 4 words  Energetic. Focused. Passionate. Driven.
Your specialism Functional Movement Training and Screen. Pilates. Kettlebell Training.
What makes you love exercise so much It's my passion! I love feeling stronger, fit and feeling confident with my body. It releases my stress too.
Whats your favourite exercise and why Any exercise for the glutes!
Have you ever met anyone famous Yes few of them Matt Demon, very nice guy and easy going person. Jennifer Lopez and Chris Martin, he's also very nice and easy going person.
Whats your favourite holiday destination Turks and Caicos and Antigua. Mexico and Zanzibar at the moment but I am pretty sure there will be many more!
Where do you shop for exercise gear Reebok and Nike and online brand.
Whats your wardrobe essential Gym gear, Jeans and dresses!
Who do you follow on Instagram Mainly Fitness related and friends.
When you're not exercising what do you like to do most Travelling is my other passion
What would your advice be to anyone who wants to feel good about themselves Change things that makes you unhappy, believe in yourself, work to achieve what you want and the magic will happen!
Whats the best advice anyone ever gave you Listen to your soul