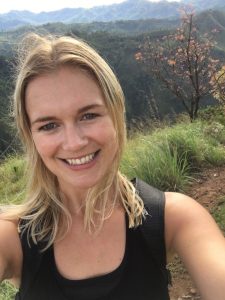 You in 4 words. Enthusiastic, Energetic, Encouraging and Empathetic (the 4Es)
Your specialism. HIIT, Strength and conditioning, Endurance, running and sport focused training, and promoting a love for movement (soon to be qualified in fitness nutrition and behavioural change
What makes you love exercise so much. I was lucky enough to grow up in a sporty family (Dad a rugby coach and mum ex trampolinist and Netball coach). Playing high level sport from a young age taught me resilience, confidence and ambition. Exercise has the power to motivate you in other areas of life and bring friends/partners together. Running with my boyfriend is one of our favorite activities together! Whether it is a brisk walk, climbing a flight of stairs, or a gym class, I always feel a sense of achievement.
Whats your favourite exercise and why Sport 100%. Nothing beats a netball match outside in the fresh air, because I love the sense of unity and companionship you get from being part of a team. The satisfaction of shooting in the net is also epic. I also love challenging myself with running. Training for a marathon is the hardest thing I have ever done physically, but I believe we have a mental barrier that needs breaking down, and for me that is the exciting part (a playlist of podcasts helps too)
Have you ever met anyone famous I went to the cinema with Margot Robbie and stayed the night at her house… (come train with me to find out the story) I'd love to meet Helen Helsby though (GB netball shooter)
Whats your favourite holiday destination. Mallorca for the sun, runs and chilled vibes. Val D for the slopes and snow!
Where do you shop for exercise gear H&M and LuLu lemon
Whats your wardrobe essential A long warm puffa coat for winter
Who do you follow on Instagram WellnessEd and Twice the health
When you're not exercising what do you like to do most Have a glass of wine or a bubbly warm bath while reading a good book
What would your advice be to anyone who wants to feel good about themselves Surround yourself with a positive, warm and supportive network of people close to you (this can be one person or multiple). Keep talking, keep educating yourself by reading and listening to people and set yourself mini goals to tick of the list not just big ones. I also always believe in 'be your own no 1 fan'.
Whats the best advice anyone ever gave you Do what makes you happy