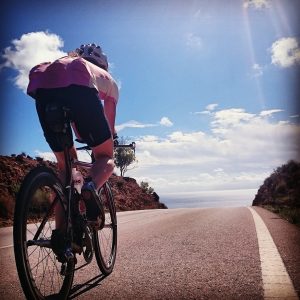 Your specialism
Triathlon coaching
What makes you love exercise so much.
Challenging yourself
How do you motivate your clients
Whats your favourite workout routine and why
Combined bike and run session, it hurts and tests you both physically and mentally
Have you ever met anyone famous
Yes, before my coaching days I worked in luxury retail
Whats your favourite holiday
Clearly not an all day laying on the beach / relaxing style one! At present it would involve, some sun, my bike+trainers, healthy food and a glass of vino as the sun sets
Where do you shop for exercise gear
I wear my own brand and brands that i partner / work with (Queen of the Mountains, Zone3, Castelli)
Whats your wardrobe essential
At the moment, cool socks!!!
Who do you follow on Instagram
So not at one with IT / social media, give me my paper to do list and pen anyday
When you're not exercising what do you like to do most
Laugh! Love going out for coffee's and catch up's
What would your advice be to anyone who wants to feel good about themselves
Focus on yourself, not others!
Whats the best advice anyone ever gave you
"the greater the sacrifice, the bigger the comeback"
This advice was given to me whilst managing an injury that keep me out of racing for over 2 years