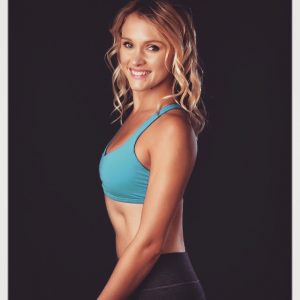 You in 4 words
Foodie. Determined. Adventurous. Creative.
Your specialism 
Helping women to feel confident and love their body with the food they enjoy and with movements and exercise to build strength and flexibility. It is important to feel good, over and above pursuing aesthetic perfection.
What makes you love exercise so much
What I can achieve with it. For me personally it is triathlon but I also love the rush you get when you lift a weight heavier than you have before or
mastered a particular movement. I love the challenges, the people you meet and all the opportunities it offers you.
Whats your favourite exercise and why 
Anything that strengthens the core and releases the spine be it stretches or resistance exercises for example spinal roll downs or teaser (pilates move for the core). These core and spinal focussed movements are vital for good posture and mobility, especially pre and post pregancy, office jobs, active jobs etc. Quite often, all you need is to stand properly and it looks like you have just magically lost a stone and gained a flat stomach.
Have you ever met anyone famous
The Duke of Edinburgh count? I was one of many who did the bronze, silver and gold Duke of Edinburgh awards at school and had a nice chinwag with the Queen's hubby about my Grandma and her love of sport when I received my Gold award at St James' Palace!
Whats your favourite holiday destination
Whistler in British Columbia, Canada without a doubt. When I am struggling with life I sit back and think of that gorgeous place. Full of adventure sports, especially skiing. It's tough though as I also do love a hot island beach….Give me beach and mountains, then I'm happy!
Where do you shop for exercise gear
Gymshark at the moment is my favourite as the colours are great and they are very comfortable. My guilty pleasure for years though a been lululemon. I tend to have to run passed the shops to not go in otherwise I end up spending a lot of money!
Whats your wardrobe essential
Really comfy thick woolly pyjama bottoms for coming home to after a long day at work and having a big fat dinner to allow for the food baby…!
Who do you follow on instagram
The main accounts I love are Lottie Murphy – a gorgeous pilates instructor and fitness blogger – I have been to a few of her classes and baked muffins for a few of her events and she has been big part of my journey becoming a personal trainer.
Also Laura Thomas PhD – Nutrionist specialising in intuitive eating – I LOVE her no bull**** approach to everything fad diet and social media, a must follow!
Also anything/anyone in triathlon really! I seriously got the bug!
When you're not exercising what do you like to do most
Cooking/baking/recipe inventing and travelling for sure. I am also quite partial to drawing/painting every now and then.
What would your advice be to anyone who wants to feel good about themselves
Delete accounts that you scroll through with these "perfect lives, perfect bodies/bums/abs". It is a snapshot of their life and most of the time unnatural poses and filtered/airbrushed. Spend less time on your phone and more time on you. There are people like myself, and all the PTs at Fitness Bells, who can help coach and guide you the safe and right way to find the confidence and happiness you already have.
Whats the best advice anyone ever gave you
"You are capable of so much more than you know". – Chrissie Wellington – 4 time Ironman World Champion (triathlon) and all roun
d legend. She said this to me when signing my book written by her and when asking her what advice she would give me, and even herself, before racing an Ironman Triathlon. It resonated with me and will stick with me for life.